Los Angeles-based celebrity interior designer Martyn Lawrence Bullard knows a thing or two about hosting and gift-giving. Every year, he updates holiday traditions with the latest colors, materials and decorative motifs. Follow Bullard's advice to give your season a modern makeover.
Puzzles and games bring out the kid in everyone, which is why they make great hostess or family presents. All the better if they're chic and decorative enough to sit on the coffee table year-round like these Tiffany playing cards and handsome tic-tac-toe set. "It's very important to make your gifts a real expression of who you are and who you believe the recipient to be," says Bullard.
Gift Something Practical and Pretty
Who says utilitarian items can't be as artful as they are useful? "I love luxe gifts that become objects you get to enjoy everyday," says Bullard. Indulge a family member or special friend with an elevated desk accessory, which they'll look at every day. "The super-smart silver and glass Tiffany Pencil Sharpener is a basic item made into a beautiful daily art form," he adds.
They say you can't teach an old dog new tricks, but you can trick a special pup out with a new treat. Bullard suggests the Tiffany Dog Collar for your most precious pet or beloved pet-loving friends. A whimsical water bowl is another option that adds a pretty pop of color wherever it's placed.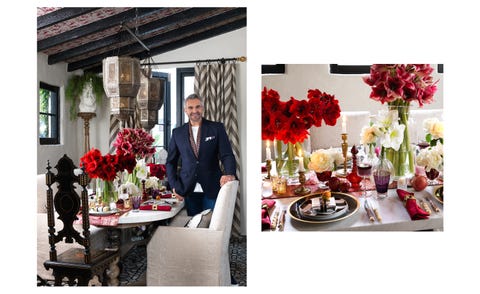 Set a Beautiful Holiday Table
"The creation of a tablescape is an art form," says Bullard. "I like to incorporate family items—pieces that are representative of my parents' tables and my grandparents' tables." Each season, Bullard updates those classic touches with a fun twist. Try new dinner plates or throw napkins in a trendy shade like blush or purple into the mix. You don't have to stick to the traditional red and green color scheme or even use typical vessels for flower arrangements, either. Decanters or candle hurricanes can double as vases, and pomegranates can function as extra festive touches and party favors. "Keep it exciting and ever-evolving, so guests always get to experience something new," says Bullard.
Handwrite Everything
Sure, everything from invitations to dinner party menus have gone digital, but nothing compares to a hand-lettered flourish. "In today's world, a personal card, gift tag, note or even a place card really shows you not only took the time to care about the person you have addressed, but that old-school values again matter," says Bullard. Fancy calligraphy is nice, but not a must. Plain block letters or a simple script looks just as pretty and personal. Consider sending handwritten thank you notes as well.